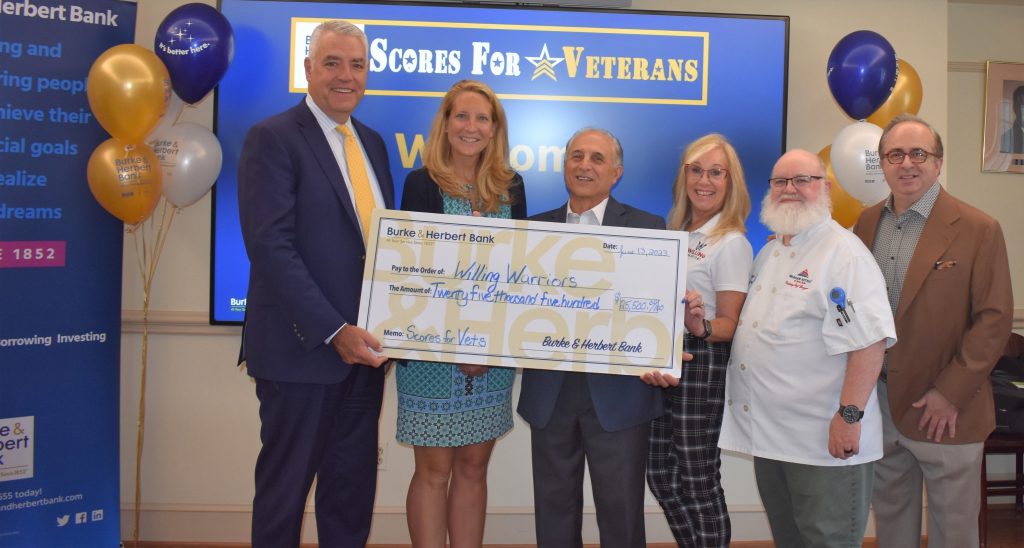 From the left: David Boyle, President & CEO, Burke & Herbert Bank; Willing Warriors: Sarah Ford, executive director, John Dominick, co-founder; Diane Polk, Director of Operations; and Larry Zilliox, Director of Culinary Services; and NBC Sports Washington – Capitals Play-by-Play Announcer, Joe Beninati.
Alexandria, VA –In Burke & Herbert Bank's historic Board Room, President and CEO David Boyle presented a check for $25,500 to Willing Warriors of Haymarket, Virginia. Willing Warriors is a 501 (c)(3) charitable organization offering cost-free respite stays at the Warrior Retreat at Bull Run.
"Scores for Veterans made a powerful impact for our Warriors. The partnership with Burke and Herbert Bank and NBC Sports Washington provided much needed funding for Warrior family stays and increased visibility for the Warrior Retreat as a resource for those who would like to give-back to the military community". Sarah Ford, Willing Warriors Executive Director.
"This year's charity allowed us to herald another veteran-focused organization," remarked President and Chief Executive Officer David Boyle. "As a locally-based company, we believe we have a responsibility to support the region's strong veteran groups. We chose to support this program not only to provide needed funds but also to raise awareness for veteran issues as well as generate additional financial support from other donors."
The 2022-2023 hockey season is the eighth time the Bank has teamed up with NBC Sports Washington to raise awareness and provide funds for a worthy local non-profit. Operating under the moniker "Scores for Vets," "Hundreds for Home$," and "Scores for Kid$," the Bank awards $100 per goal scored by the Washington Capitals during their regular season to that year's selected charity. Through this program, Burke & Herbert Bank has provided sizable donations to: GrandInvolve, Most Valuable Kids Inc., Alice's Kids, Inc., Connect our Kids, Inc., Rebuilding Together DC-Alexandria, Homestretch, Inc., and another veteran-focused organization, Operation Renewed Hope Foundation.
The Willing Warriors organization provides respite stays where the warriors and their families come to relax, spend quality time, and reconnect. Their programs include more than 40+ cost-free educational and recreational activities, including seminars that address the issues of dealing with PTS and TBI. The intended outcome of these retreat stays is the Warrior and their family members return to the routine of rebuilding their lives feeling refreshed and inspired.
Burke & Herbert Financial Services Corp. is the bank holding company for Burke & Herbert Bank & Trust Company. Burke & Herbert Bank & Trust Company is the oldest continuously operating bank under its original name headquartered in the greater Washington DC Metro area. The Bank offers a full range of business and personal financial solutions designed to meet customers' banking, borrowing, and investment needs and has over 20 branches throughout the Northern Virginia region and commercial loan offices in Fredericksburg, Loudoun County, Richmond, and in Bethesda, Maryland.
Member FDIC; Equal Housing Lender