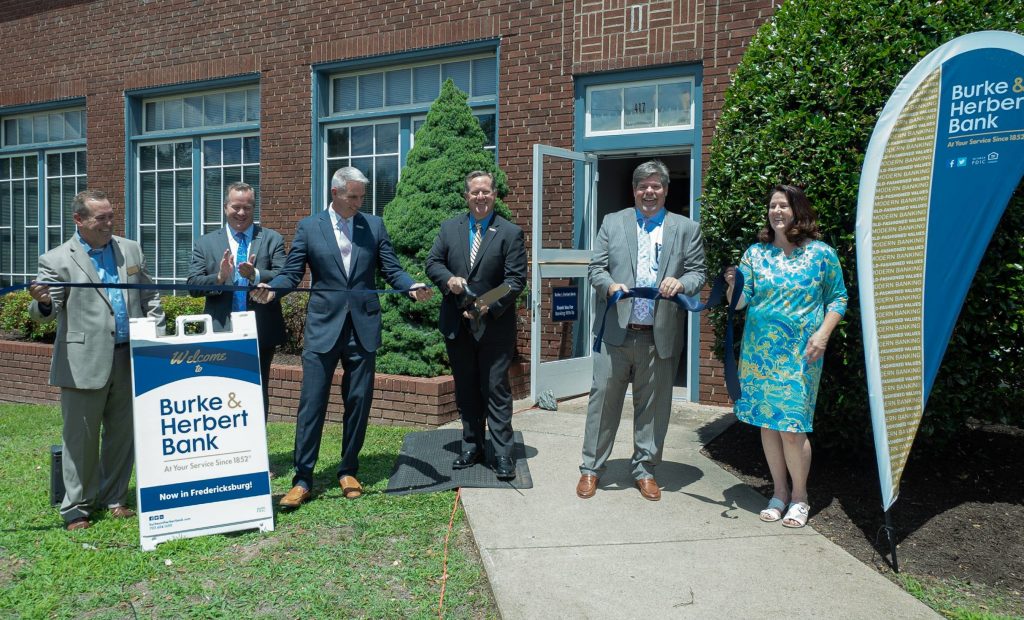 Fredericksburg, VA – Burke & Herbert Bank made its entry into Fredericksburg official with a ribbon-cutting ceremony to celebrate the grand opening of its Fredericksburg Market Headquarters, located at 417 Wolfe Street in Old Town Fredericksburg, Virginia. This marks the first physical presence outside of northern Virginia for the nearly 169 year-old, locally-owned community bank. Eric Fletcher from Mary Washington Healthcare and Chair of Greater Fredericksburg Chamber of Commerce's Board of Directors introduced the Bank and Kerry P. Devine, At-Large, Fredericksburg City Council Member welcomed the Bank on behalf of the City at the June 24th event.. Participants from the Bank were Greg Mellors, Senior Vice President & Director of Commercial Banking; Lee Pugh and Jeff Rouse, Commercial Relationship Managers; and Jeff Davis, who will manage the Bank's Fredericksburg branch which will open later this summer.
Greg Mellors, speaking at the event, remarked "We're thrilled to be bringing Burke & Herbert Bank's special brand of community commitment and personalized service to the greater Fredericksburg market. While the Bank may be new to Fredericksburg, we are not new to banking in Virginia." He added, "The Burke & Herbert Bank team in this market includes bankers who live, work, invest and volunteer in Fredericksburg. We plan to add locally-based wealth advisors and mortgage lenders as well."
Burke & Herbert Bank announced its entry into the greater Fredericksburg market earlier this year as part of its plan for growing the Bank with emphasis on building additional commercial banking and borrowing relationships. The Bank currently has a $1.8 billion loan portfolio, comprised primarily of commercial loans. Total deposits stood at $2.9 billion at the end of the first quarter of 2021.
Burke & Herbert Bank is the oldest bank in the Commonwealth of Virginia and the oldest continuously operating bank in the Washington, DC area. The Bank offers a full range of personal and business banking products and services designed to meet customers' banking, borrowing, and investing needs. Burke & Herbert Bank is headquartered in Alexandria and operates more than 20 branches in northern Virginia.
Member FDIC; Equal Housing Lender