7/1 Adjustable Rate Mortgage

Take advantage of an Adjustable Rate Mortgage (ARM) loan that has a lower initial rate and payment amount than a fixed rate loan.
KEY FEATURES & BENEFITS
Low initial interest rate
Initial rate is fixed for 7 years, and adjusts once every year after that
Maximum 2% rate increase per adjustment; 6% lifetime adjustment cap
Available for primary residences and second homes; maximum loan amount $2,000,000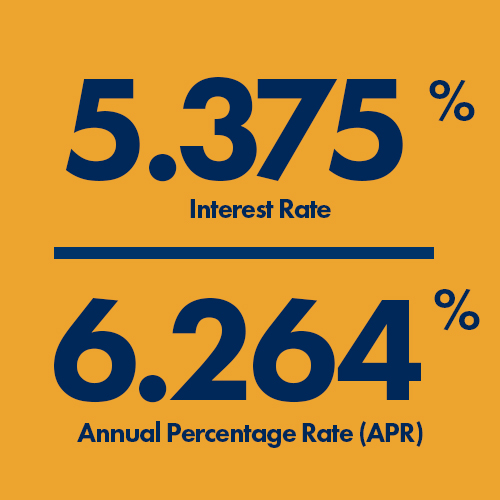 For a sample loan amount of $540,000, with a down payment of 10.00%, the monthly principal + interest payment and Annual Percentage Rate (APR) are as follows:

*Principal and interest only; excludes taxes and insurance. Actual payment will be higher.
We've Got Great Mortgage Options
To learn more about the 7/1 ARM and all of our great mortgage options, call us at 703-684-1655 or have a Mortgage Loan Officer contact you.
Apply Now
NMLSR #195335
The above information is not a commitment to lend and is for information purposes only. All loans are subject to underwriting approval. Information displayed is accurate as of 1/23/2022 and is subject to change without notice. The Annual Percentage Rate (APR) shown reflects the interest and applicable closing costs.
ARM loans are variable rate loans; interest rate and payment may increase over the life of the loan. After the initial fixed-rate period, your interest rate can increase or decrease every one year, according to the market index plus a margin. Any change may significantly impact your monthly payment. For interest rates and adjustments, the interest rate will be based on the following index: the weekly average yield on U.S. Treasury securities adjusted to a constant maturity of one year, referred as the 1-year CMT or UST1YW, plus a margin of 2.25%, rounded to the nearest 0.125% not to exceed interim caps and lifetime adjustment caps. The Maximum Interest Rate and Maximum Payment displayed are based on the initial starting rate plus a margin of 6%, which is the maximum lifetime adjustment cap. Floor rate is the same as the initial starting rate.
The minimum down payment requirement is 10%, which could be higher depending on loan amount and credit score.